Love is in the air. Cakes are on our website. It's a match made in heaven.
Whether you are celebrating your besties for Galantine's Day, honouring your long term love or trying to make a good impression on someone new, this week is the time to show someone you love how great they are. That someone might even be you. (Let's not forget the words of the great philosopher RuPaul: "if you can't love yourself, how in the hell are you gonna love anyone else?" Show yourself some Valentine's Day love instead, guilt free.)
Originally known as the Feast of St Valentine, February 14 was connected with food long before giving cards and flowers were ever considered. Combine that with the latest research from Vypr where 60% of those surveyed said they would be staying at home to celebrate this year and we're seeing some cosy nights in with a takeaway on the horizon. There's plenty choice at Scoffable whether you're looking to spice things up with an Indian takeaway or go the full "That's Amore" with a pizza.
Whatever you do though, don't forget a delicious dessert. We spoke to Lyndsey Gillhaney, owner of Scoffable partner Cakes and Shakes in Kilsyth, to find out what she's preparing for the week ahead.
"I started out baking from home, and it was a dream of mine to open a shop one day. And now here we are! I opened Cakes and Shakes in March 2022, so this will be our first Valentine's Day.
"My niece and I run the shop, and I do a lot of the baking myself. We're excited to be making treats for our customers and their loved ones this year, there's something really nice about knowing that what we've made is being given to someone and making them smile."
Most days are busy for Lyndsey and the team at Cakes and Shakes, and she's expecting Valentine's Day to bring in a few new customers as well. Lyndsey starts the day out and about buying ingredients and stock. Then it's back to the shop to get organised for opening, making cheesecake pots, restocking the wide range of delicious ice creams and toppings on offer and preparing for orders for delivery coming in. She has big ambitions for 2023:
"We've had a great start with Cakes and Shakes and I'm excited to see where things go in future. I'd love to see us continue to grow in 2023, as word spreads to new customers about what we've got on offer."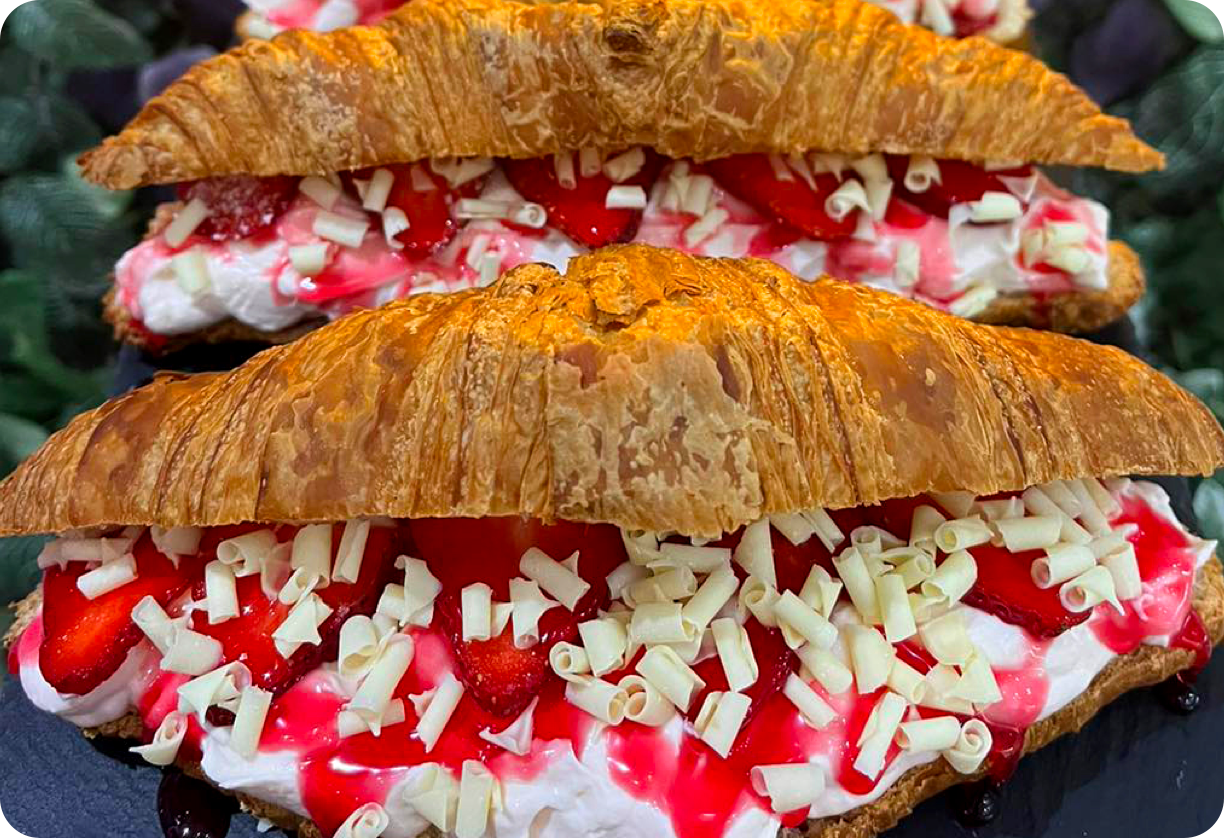 Stuffed croissants from Cakes and Shakes
Our customers are amazing and I genuinely appreciate everyone who's helped us get this far. We're looking forward to welcoming more and more cake and shake lovers in 2023!
So what should you be considering for your Valentine's Day treat from Cakes and Shakes? Lyndsey does an amazing range, including different sweet munchie boxes for each day of the week! But when we asked Lyndsey for her personal recommendations, here's what she told us:
"Our best sellers are our amazing sundaes and delicious homemade cheesecake pots. I sell out of cheesecake pots every week, people just love them.
"Personally, I really enjoy making the sundaes. I love making all the layers of ice cream, sauce, toppings. Getting the right ratio of the different parts is key. It's like a work of art when finished.
"It's hard to recommend just one thing without knowing what people like so I've got two to suggest. First our Galaxy Caramel Milkshake with cream on top. It's rich and creamy and you definitely feel like you've been spoiled. Put it together with one of our most popular cheesecake pot flavours, Kinder, and it's a match made in heaven. They never disappoint.
"But if you're looking for something with the wow factor, then I'd recommend our filled croissants. I'm really proud of these because I designed them myself. We can do cheesecake filled ones, which are amazing, or if you've got a really sweet tooth, we have the Toasted Goodness. It's a croissant filled with Nutella sauce and megamallows."
If you've been inspired to treat yourself, a pal or a loved one, order from Cakes and Shakes with Scoffable.